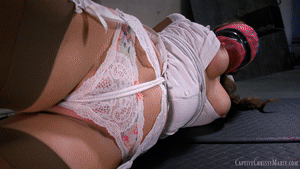 19:11 video
He caught the neighbor girl Chrissy snooping around in his garage again. She has always wondered what he does in there as she sometimes hears strange sounds coming from inside. This isn't the first time she has tried to sneak in but the door was always locked, however this time it was open. As she snooped around Chrissy found leather restraints hanging on the wall and a bunch of rope and soon realized that he must be tying women up in there!
It's not long before he catches her in the act and scolds her for snooping around his place again. He says maybe he should tie her up to teach her a lesson to which she replied "You wouldn't dare" in a challenging tone. She didn't think he would actually do it with her mom right next door! But before she knew it her hands were bound behind her back as she begs him to stop and tells him she was only kidding. He continues to rope her legs together and when she realizes he isn't going to stop she threatens to scream for help. So he quickly ties a knotted rag between her teeth to gag her. He continues to tie Chrissy up very tight, even lashing her elbows together then pulling them up into a chicken wing. This makes Chrissy start mmmpphing and crying out for help and he realizes she needs a more effective gag. He finds some panties to stuff in her mouth and cleave gags her again. Then he leaves her struggling desperately to escape her painful predicament, but the ropes are too tight and the knots all out of reach! She knows she has no chance of getting free on her own!
Just when Chrissy thought things couldn't get any worse the man returns to humiliate her some more to really make sure she learns her lesson. He removes her skirt then adds a very tight crotch rope and uses it to hogtie her. Finally he pulls a pair of panties over her head, taping them in place with black electrical tape. He unbuttons her blouse and leaves her there helplessly struggling in the strict chicken winged hogtie, now brutally double gagged and extremely distressed!
*In collaboration with and previously released by Girl Next Door Bondage