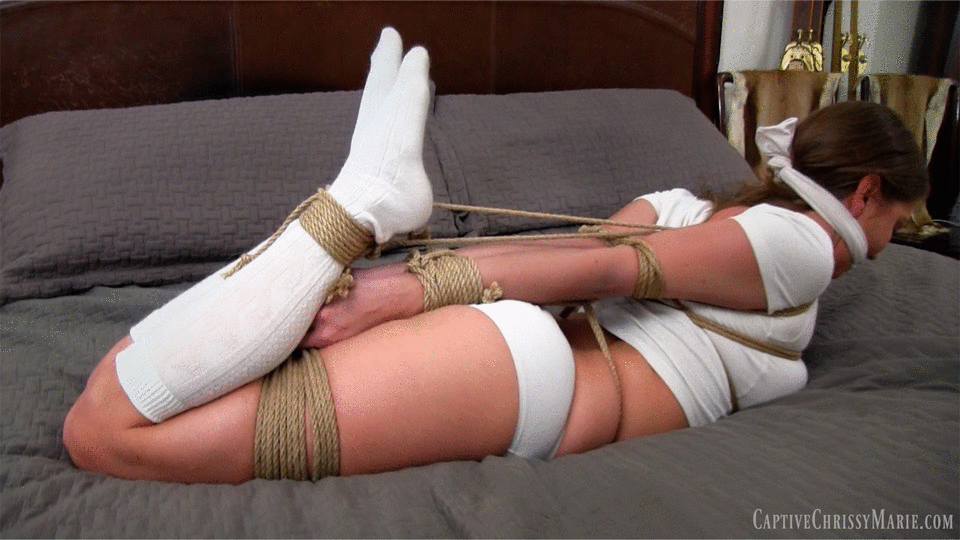 9:45 video
Chrissy finds herself bound in a very strict arching hogtie with her crotch rope pulled up through her chest harness and tied back to her ankles so as she struggles the crotch rope gets pulled even tighter! Her legs and arms are welded together with the rough jute rope and the knotted cleave gag in her mouth muffles her cries for help. She desperately tries to reach the knots but they are too tight and there is no escape for poor Chrissy. She is stuck helplessly struggling and rolling around on the bed in her white crop top, white cotton panties and cable knit knee socks.
The hogtie is so tight that when Chrissy rolls over onto her side it's nearly impossible for her to roll back onto her belly. She almost gets stuck on her side a few times but with a great amount of effort she manages to roll herself back onto her belly, but not without pulling her crotch rope torturously tight! Chrissy continues to struggle against the ropes, hoping that they will loosen enough for her to get free before her captor returns, growing more and more distressed by the minute as she realizes she is truly helpless!
Later the bad guy returns to taunt her (POV). Chrissy is frightened as he pulls up her shirt to reveal her breasts and pulls down her panties to squeeze and smack her ass! All as she squirms furiously, mmmppph-ing and pleading through her gag for him to please let her go! Unfortunately for Chrissy he plans to keep her tied up quite a bit longer! He leaves her there still bound and gagged, hopeless and worrying how long he is going to leave me tied up? And what is he going to do to me when he finally returns?!