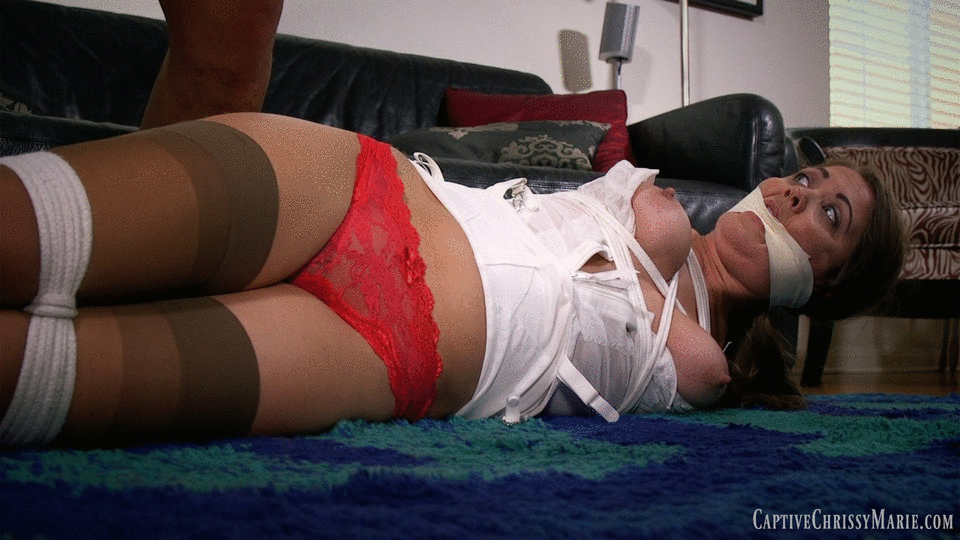 14:16 video
Chrissy is at home when an intruder breaks in and confronts her. He tells her he wasn't expecting anyone to be home and she explains that she didn't go to school today. Unfortunately for her that means he is going to have to tie her up so she doesn't get in his way! But first he would like her to change into something a little sexier than her lounge clothes...
Next we see Chrissy wearing some lingerie that the intruder found and XXXX her to put on. A tight white girdle with garters, thigh high stockings and 6 inch red stiletto pumps. Her wrists have been bound behind her back and her legs are tied up with rope. The intruder mentions that he didn't think girls wore that type of lingerie anymore. She tells him that's because it's her mom's lingerie and she is obviously not happy about wearing it. He says her mom must be really hot too and maybe he will wait until she comes home so he can tie her up too! Chrissy starts begging the man to untie her and complaining that the ropes are really tight. He tells her too bad and it's about to get a lot tighter!
He goes back into her mom's bedroom and comes back with something to gag her with. He stuffs her mom's panties in Chrissy's mouth and wraps micro foam tape between her teeth and around her head sealing them in tight! Chrissy is left there struggling while he goes to get more rope. He soon returns to fulfill his promise of making it tighter! He binds her elbows and pulls her arms into brutal chicken wing tie as she mmmpphhs and protests through the thick gag. Then he leaves her there all bound and gagged while he ransacks the house. She struggles hard but cannot manage to escape from the torturously tight ropes.
Later the intruder returns and exposes her breasts. She looks so good tied up with her boobs out that he can't help himself and goes to pull down her panties to take her from behind. However before he can get her panties down he hears someone outside and decides he doesn't have the time. He makes his getaway leaving Chrissy there helplessly struggling on the living room floor. When her mom comes home she will be shocked to see her daughter has been tied up in her own lingerie!