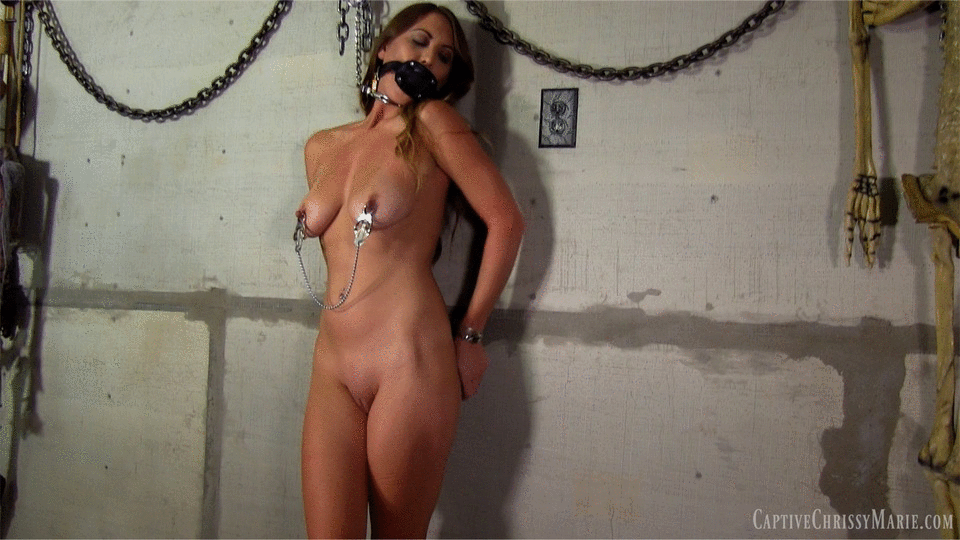 42:26 video
XXXX, XXXX, XXXX… Chrissy wrapped again on the front door. Again there was no answer. She looked down at the flyer in her hand "Open Audition for Female Model, Adult Erotic Art Shoot, 10:00 AM". Again she looked at her watch. She was on time and had the right address. She was dressed to win the part. Thin white cotton crop top, no bra, her magnificent nipples standing at attention. Her shortest miniskirt and her highest heels. She reached out and tried the doorknob. It was open. Slowly she swung the door open and entered. The living room was spacious with modern decorations, soft couches and gleaming hardwood floors. "Is anyone home? I'm here for the audition…" she called out and got no answer. She began to scan around the room. The atmosphere seemed to draw her in. There was something sensual even animalistic about the room. The decorations were bold, masculine, and powerful. Chrissy felt drawn in. Her gaze fell on a large wicker basket that seemed to have a bright silver chain dangling from it. She reached out and pulled on it. The lid came open and to her amazement it was filled to the brim with all kinds of bondage gear. Chrissy impulsively kept pulling on the chain and to her amazement at the end was the largest handcuff she had ever seen. She played with it for a few moments trying it on her wrist and finally decided it was a neck cuff. Curiosity won out over caution and she decided to try it on. She found the key, tested it to make sure it would unlock and slowly put it around her neck. Click, click, click she closed it home. Getting more excited with every ratchet. Until it was tight enough, maybe a bit too tight. A thrill surged through her body. She pinched her nipples. She was amazed at how hard they were. She felt her crotch. It was getting wet. She must have more.
Over the course of the next few minutes she looked through the basket of toys and selected what she wanted to try on. She selected a ballgag, 2 pairs of handcuffs, one hinged, and a pair of clover style nipple clamps. She removed her top, gagged herself, then proceeded to lock the first set of handcuffs on her ankles. Then she picked up the nipple clamps. Chrissy was no virgin to bondage. Her boyfriend had introduced her to it long ago and she enjoyed it but these clamps were new to her. She eyed them and carefully first applied the left one. "Ouch" she cried or that's what she would have said if she had not been ball gagged. So instead it came out as MMMRRFF!!! Determined to go one she re-applied the clamp to the left and then the right nipple. These would take some getting used to. She tugged on them and found the sensation increased when she pulled. She liked it a little so she found a big padlock and attached that to the connecting chain. She swung it around a few times to test it. Interesting! Next was the hinged handcuff. She was going to lock her wrists in front of her so she could reach all the keys. She had just locked the first wrist when a large man entered the room. "There you are, I have been waiting for you at the other side of the house, and we use this as the back entrance. I see you're a nosy bitch, didn't take you long enough to help yourself to my toys." he belted out. With that he grabbed Chrissy's free arm and swung it behind her. Then grabbing the open end of the handcuff he locked her wrists behind her. He sat down on the couch, hoisted her up on his lap and lifted her skirt to give her a good spanking. "Oh My, My, My, what do we have here" he said as his fingers found and his eyes beheld the bright red heart shaped butt plug in Chrissy's ass. "We have a real player here… this is going to be on hell of an audition!"
Chrissy is now naked and being led into the Masters dungeon room. She is still wearing the ball gag, hinged handcuffs and high heels. The ankle cuffs are making it very difficult for her to walk. She must take tiny steps but her real predicament is her nipples. Still wearing the clover clamps and padlock but now the Master has added a chain leash and he is keeping it taught prompting her to pick up the pace. When she keep up he pulls the clamps right off of her nipples, only to reapply them to her already sore nipples. She gets the hint that she better do as she's told. He leads her around some more then stops her in the center of the room and attaches the leash to a chain dangling from the ceiling. "This is where the fun happens" he says with a sneer in his voice and a gleam in his eye. "Wait here while I get a few things". Over the next few minutes he modifies her bondage. Her legs are spread wide and locked to a spreader bar. Her heels are removed. Then another pair of hinged handcuffs is painfully locked on her elbows. Her nipple leash is locked to her spreader bar making her bend over at a sharp 90 degree angle and her wrists are raised high to the ceiling in a painful Strappado. Chrissy is then left to contemplate her fate. What has she gotten herself into? Is he going to spank her, whip her, cane her? The suspense did not last long when she heard the unmistakable click and hum of the powerful vibrator. She knew exactly what was in store for her. First he applied the vibrator to her breasts and nipples. The clamps and their connecting chain rattled loudly as the powerful vibrator hummed loudly. The pain was unbearable and she moaned in agony. Just when she thought she could not bear the pain he began smacking her ass. First with his hand, and then he started using a small whip. When her ass was bright red he turned on the vibrator again this time using it directly on her clit. Over and over her swollen labia he ran the vibrator bringing Chrissy close to an orgasm several times but when she was ready to come he would pull it away and smack her ass multiple times with his hand. Keeping her right at the edge. Finally he pulled the ball gag from her mouth and moved the vibrator to the butt plug. Alternating it from there and her clit, then moving the plug in and out while the vibrator drove her clit into a frenzy. Chrissy cried out with all of her might as she climaxed then fell XXXX and exhausted.
Chrissy awoke to find herself on her belly on the floor in a tight hogtie. All the metal cuffs were gone from her body but still laying around the room along with several sets of keys, other bondage gear and a pair of scissors. Besides the ropes she found she had a large penis gag in her mouth. A quick shake of her head produced a familiar rattle. She knew it had been padlocked on. The big man was gone. Chrissy guessed this was her chance to escape. Chrissy was no virgin to this either and considered herself an accomplished escape artist. Quickly she went to work testing the hogtie and found no knots accessible but there seemed to be a rope connecting her crushing elbow tie to her ankles. She had seen a pair of scissors on the floor and began the slow effort to worm her way to them. Once she reached them she cut that connecting rope which seemed to be the key tie. Over the next few minutes Chrissy worked her way out of the wrist tie, ankles, and knees but the elbows were quite a challenge. After considerable effort she managed to get free of the ropes. It took a few tries until she found the key to the penis gag lock. When she did she slowly, and I mean slowly, pulled that from her mouth releasing a river of saliva. She looked at the gag. She actually had enjoyed it and gave it a few sucks. She would keep this as a souvenir. She located her clothes and was about to get dressed and leave. Then she stopped and thought...she had really liked the man and the way he handled her and that orgasm was awesome. Good memories filled her head and a huge smile filled her face. Chrissy was going to do something really naughty. Scanning around the room she found the neck cuff, some padlocks, handcuffs and those evil clover clamps. Quickly she re-applied the penis gag and locked it on with a padlock. She tenderly put the cover clamps back on her nipples. She locked the neck cuff around her neck just as tightly as before and padlocked its connecting chain to a ring on the wall. Finally before she locked the hinged handcuffs on her wrists behind her back Chrissy took the handful of keys which held her freedom and tossed them over her head across the room. With that she finished locking her wrists behind her and leaned against the wall. Content with her fate and waiting for her new Master to return.
*This clip was a CUSTOM VIDEO commission