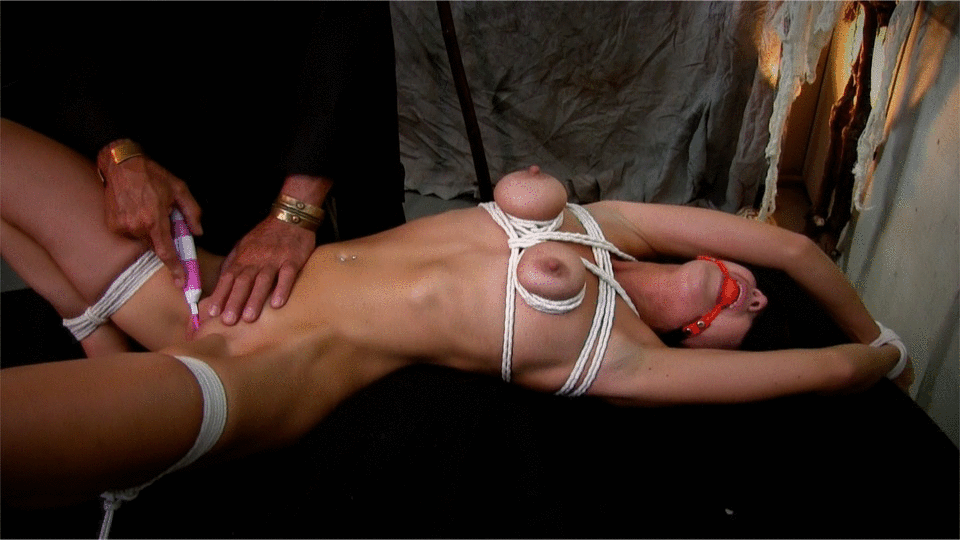 21:26 video
The camera comes back in to find Chrissy Marie in another perilous predicament. Her breasts are bound with rope, her legs frog tied and secured wide apart, arms still stretched overhead. She is still ballgagged and now blindfolded so she has no idea what's coming. The demon starts on her again with the pinwheel. Slowly rolling it over her now bound tits. The camera captures this very close up. He goes back and forth for a while then demands Egor retrieve another horrible instrument. While Egor is gone he squeezes and pinches Chrissy Marie's tits and again ask her why she has been sent to him. She just shakes her head. Egor returns with an electric neon wand. "Not that master, she is so beautiful" but the demon pays no attention to Egor and runs the wand slowly all over her concentrating on her tits and nipples. "Egor, flog her tits" the demon orders. "No, master, she is too beautiful". The demon says "Egor" in a stern voice and Egor obeys and swings the flogger. After a few times the demon holds up his hand to stop Egor then applies the wand again. This is repeated several times. But then after only a few swings Egor stops without being told to. To the demon's surprise Egor walks away. It seems there is rift developing between the demon and his hideous slave. One that is not lost on Chrissy Marie. The demon is irritated at his slave but turns his attention back to his captive and continues playing with her, pinching her nipples, groping and tormenting her. Suddenly Chrissy Marie hears a buzzing sound. It is coming from a 'Celebrator Sex Toy'. The demon first uses it on her sensitive nipples then finds Chrissy Marie's sweet spot and drives her crazy with it. Chrissy Marie moans and gasp to several more orgasms. Then he gives her another flogging, but she still doesn't tell him why she was sent to him. The demon walks away promising to return, leaving her there helplessly bound, gagged and blindfolded.
Chrissy, still unable to see what's around her feels a soft caress of her breast. She lifts her head trying to see under the blindfold. It's Egor. "You are so beautiful" he says as he gently touches Chrissy Marie's naked body. Chrissy Marie tries to speak and Egor takes off her gag and blindfold. At this point Chrissy Marie looks directly into the camera and says "A girls got to do what a girls got to do". As Egor continues to fondle her Chrissy Marie starts to moan sensuously. "Oh Egor I like that…Oh Egor I want you….We can leave together. Hurry, untie me and I'm all yours" Egor hesitates. "Egor, we can be together…You can have this any time you want…Hurry, he's coming back." So Egor frees Chrissy Marie and brings her something to wear. "There is a passageway back to your world." "I have seen him use it." They start for an exit, but the demon appears behind them. "Where do you think you are going?" he says. "Away from here" Egor replies. Egor pulls out a dagger causing the demon to laugh. Egor circles the demon to pull his attention away from Chrissy Marie, then lunges at him. But the demon swats him away sending him bouncing off the nearby wall knocking him out. Egor has given his all for Chrissy Marie. The demon then turns his attention back to Chrissy Marie, but too late. Chrissy Marie is gone. "Do you think you can escape? "I will find you!"
Has Chrissy Marie escaped from the demon?? Probably not! To be continued?
*This clip was a CUSTOM VIDEO commission