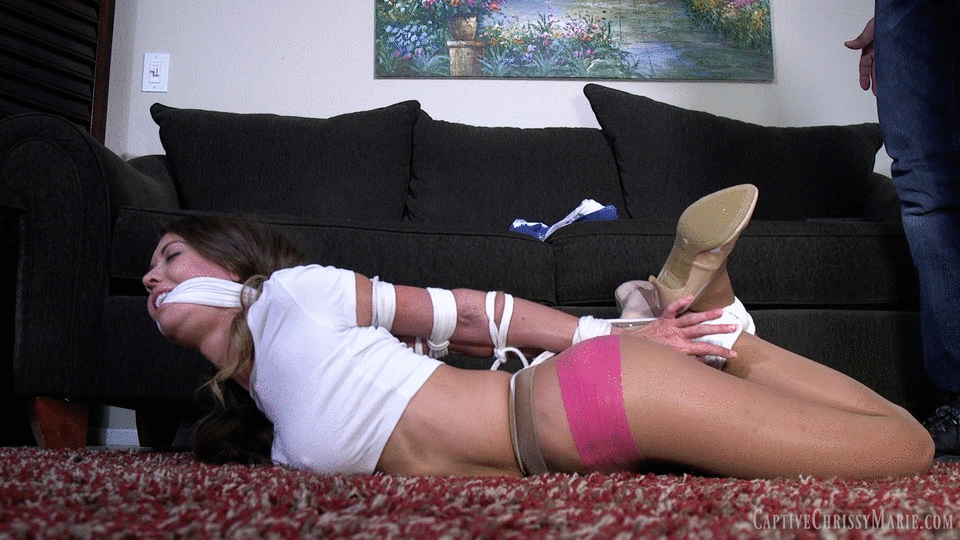 18:02 video
Chrissy was babysitting some young boys from next door when they tied her up and then left her bound and gagged! After hours of struggling she was finally able to get loose from her hogtie and hop next door to ask her other neighbor Steve for help! The scene begins with Chrissy letting herself in the back door and waking him up from his XXXX. He is shocked to see Chrissy tied up and gagged and pulls out his phone to call police. Chrissy starts frantically shaking her head no and begging him through her gag not to call the police. Confused, he takes off her gag to let her explain. When he finds out it was the boys next door he decides to call their mother, but she doesn't want him to do that either! She tells him that it may have been partially her idea to let them tie her up, it was just supposed to be a game, but then they left her there all alone!
He unties her elbows as she tells him story. However when he goes to untie her wrists she has a change of tone. Chrissy asks if he has ever tied anyone up. He tells her maybe. Then she admits that she's always had a fantasy of being tied up by an older man, usually it's just the young boys she's babysitting, but someone with more experience would make it more of a turn on. He can't refuse the offer and tightens the knot on her wrists. He ties her ankles crossed and goes to find a better gag, rather than the ladies slip she showed up cleave gagged with! He returns with a pair of his wife's panties which are stuffed into her mouth and sealed in place with a white cloth between her teeth and tightly knotted behind her head. Chrissy was a little surprised with the effectiveness of the gag but remembers she was the one who wanted real bondage! He goes next door to get more rope and leaves her struggling and squirming on the couch.
When he returns he takes the bondage to the next level, binding her elbows and arms together extremely tight. He pulls up her skirt to see her cute pink panties underneath her sheer pantyhose and that gives him idea! After another minute or so of struggling her skirt is pulled off and a very tight crotch rope is added and the same rope is used to hogtie her so that as she struggles she pulls on the crotch rope! Even in her slight distress it's obvious she's enjoying the experience. She struggles helplessly hogtied on the floor, rolling around and thrusting her hips to maximize the pleasurable sensations from her crotch rope. Later he comes back in and wraps pink medical tape around her already packed and cleave gagged mouth and head! He pulls up her top exposing her breasts and leaves her there. After some more sexy struggling and plenty of muffled mmmpphinng he comes back and asks if she is ready to be untied but Chrissy shakes her head no. So he decides he just might have to take advantage of the situation and make sure the naughty babysitter's bondage fantasy is fulfilled!