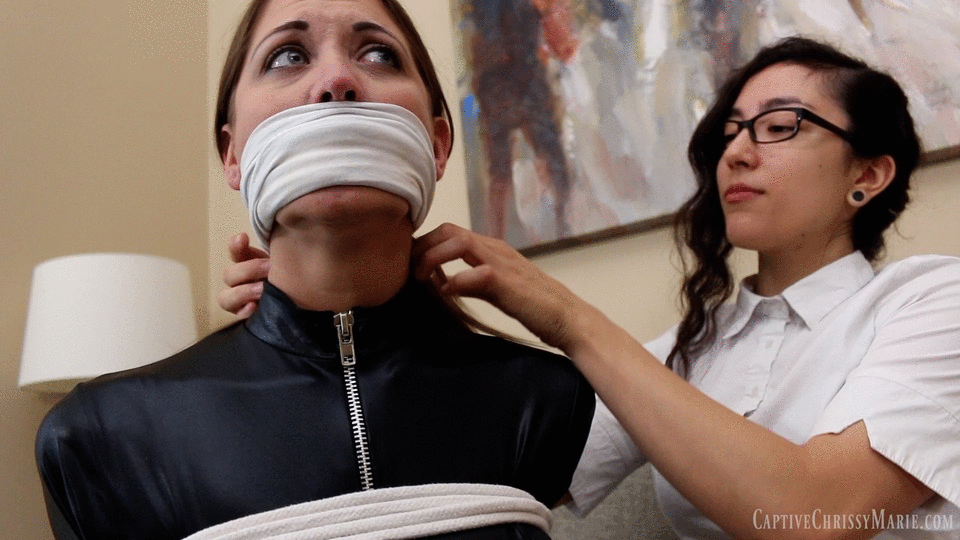 13:50 video
Starring Chrissy & Khristall -
Chrissy Marie is a private Investigator trying to find information on money laundering by the mob. She's very experienced and very confident. Khristall is an accountant at one of the mob's organizations. She is dorky and looks harmless, but is actually quite ruthless. She is obsessed with Chrissy, but is also anxious to advance in the mob in any way possible. The scene opens with Chrissy in her office on the phone explaining to a colleague that she found out where the mob hid its files about the money laundering. She says that she plans to break in and steal them late that night. The only person there that late is the dorky accountant, who Chrissy says she'll easily be able to take care of if necessary.
Next we see Chrissy in the mob office dressed in a tight black catsuit and heels, searching through the files. A minute later Khristall comes up behind her dressed in dorky office clothes and glasses and no heels. She looks really excited to see Chrissy, suddenly blurting out "OMG is that really you Chrissy?!" Surprised, Chrissy turns around quickly while holding a folder. Chrissy tells her that she has the evidence she needs, her boss is going down, and that Khristall better stay out of her way. Khristall gushes over her, saying how much she admires her work as a PI, even though she herself works for the mob. Chrissy, somewhat confused, says whatever, and starts to leave. But Khristall pulls a fast one on Chrissy and threatens her. Shocked, Chrissy drops the file and slowly puts her hands up. While her hands are up, Khristall gently pinches Chrissy's nose and says cheerfully "Sorry honey, but I'm gonna need to keep you here for a while."
Now Khristall has Chrissy tied up with rope on a couch. Chrissy's hands are tied behind her back, her arms are tied to her torso with ropes crossing her stomach and right above her breasts. Her legs are bound at the thighs. The scene starts with Khristall finishing up tying Chrissy's ankles together. Khristall is so excited that she's captured Chrissy! The mob wants to get their hands on the city's best PI, and will pay Khristall a lot for her AND give her a promotion. Meanwhile Chrissy is terrified, begging Khristall to let her go. After Khristall gags Chrissy, she calls the mob bosses and tells them she has Chrissy and whoever is willing to pay the most will get her. However after making the call, Khristall decides that she's so excited to have Chrissy that she doesn't want to sell her to the mob. Instead she'll keep her for herself, at least for a few days. Throughout this scene, Khristall is very cheerful, and constantly pinches Chrissy's cheeks and nose. Chrissy is scared and tries to beg and plead through her gag. After Khristall decides to keep Chrissy, she talks cheerfully about all the fun they'll have together. The scene ends with Chrissy listening helplessly to Khristall, dreading having to be this crazy, annoying woman's captive.
*This clip was a CUSTOM VIDEO commission