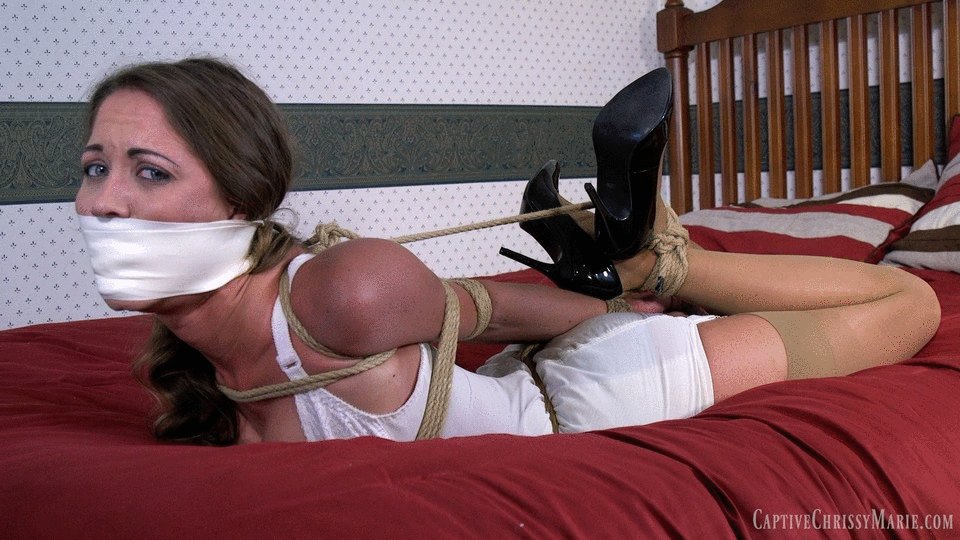 12:16 video
You're sitting in your room when your step mom XXXX on the door and comes in. She tells you your father is working late and it's just you and her tonight. Then she says she was cleaning your room yesterday when she found something a little strange. She holds up a couple of your bondage magazines, briefly flipping through them. "So you like to look at girls tied up?" She then brings up the time she caught you looking at her in her underwear while she was getting ready for work, as she opens her robe to reveal her girdle and garters. "So how would you like to tie up your step mom?" she asks. Knowing that dad won't be home for a while, you hap[ily oblige!
Next thing she knows her legs and wrists are bound with jute rope and she struggles and tests her bonds. She compliments your work, she had no idea you were so good at this! She has fun acting like a damsel in distress for you, playfully calling for help and saying you might have to gag her to keep her quiet! You agree and gag her with a knotted blue cleave gag and she continues to struggle as you peek up her girdle at her lacy blue panties. Then you decide you'd like to tie her up even more! You throw a more rope on the bed and she seems ready for more. Then you throw a pair of her panties on the bed and she looks at you confused and worried about what you plan to use them for. It's not long before she finds out!
Now her elbows and pinned together and rope encircles her chest above and below her breasts. You've tied her up very tight and stuffed her mouth with panties that are sealed in with microfoam tape wrapped around her mouth and head. She isn't as willing to play your game anymore, gag talked and telling you it's too tight and it's time to let her out. However you're not done playing with your bound step mom yet! She eventually ends up crotch roped with her boobs exposed and in an extremely strict arching hogtie. She angrily struggles and gag bitches, demanding that you release her, but not understanding a word of what she says through her packed mouth you just continue to watch her struggle helplessly while mmmpphhing furiously. She obviously had no idea what she was getting into when she agreed to let you tie her up!