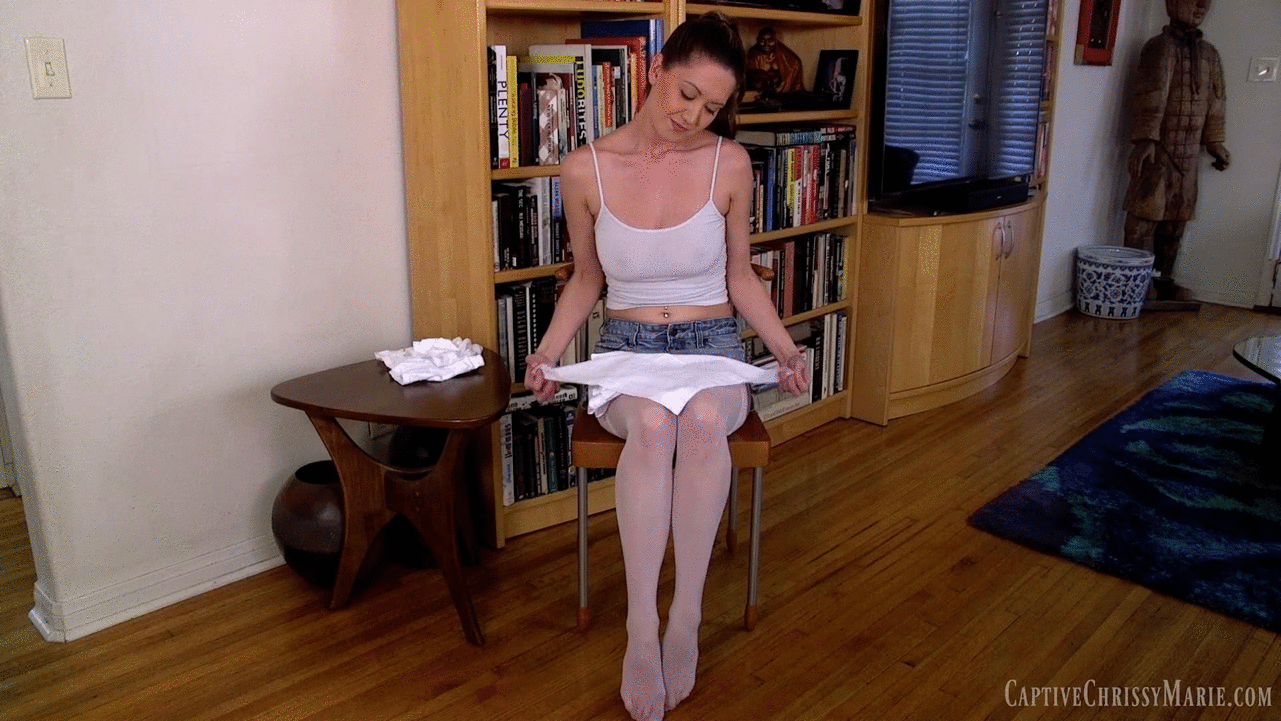 19:35 video
I was at home recalling my role playing experiences with my high school boyfriend. We both had a gag kink from all the old movies we used to watch. It started off when we would play a game at school where we would sneak up on each other from behind and handgag each other, Then one day, Jack held my mouth really tight with a folded white handkerchief! He held on tight and really kept my mouth quiet with his thick white hanky. It smelled like his neck and that turned me on big time. I wanted to gag him like that and keep him quiet, but I didn't have a handkerchief. I thought about using my panties, but I couldn't do that in public. I needed to get him alone…
Summer had just started so I invited him over one night when my parents weren't home. After making out and stripping down to our underwear he reached into his jacket and pulled out a stack of white handkerchiefs. He said he wanted to try putting a gag over my mouth… then he said he wanted to try putting a gag in my mouth. We were always curious if the gags used in movies were actually effective at keeping someone quiet, so we decided to experiment. He folded a big white hanky and tied it tightly over my mouth. I loved the feeling of the soft cloth covering my mouth and pressing my lips together (all self-gagging done on screen) however I could still make a lot of noise through the gag. After removing it I told him I think we can do better… so we continued on with our little 'experiment'.
Next he tied a huge white handkerchief over my mouth AND nose. I could barely breathe when he tied that gag over my nose. The cloth was SO thick and SO tight! I was getting a little nervous and begged him to take the gag off… "Mmmpph I can't take the gag. The gag is too tight, I can't do it. Get this gag off my mouth!" After he removed the gag he comforted me and I started to calm down. He slowly pulled out a new handkerchief and started folding all the corners into the middle. He held the thick wad of packing up to my face and said "Do you want me to pack your mouth?" I was turned on so much at this point all I could say is "I want everything…" He packed a big handkerchief all the way in my mouth and when he tied another hanky in my mouth to cleave gag it in it jammed the packing all the way to the back of my throat. I felt silenced by the huge wadded up hanky in my mouth!
He said there was still some sound getting out so he wanted to try some more layers. So I told him to pack my mouth with two big white hankies and tie the gags super tight so I can't spit the gag out! This time he really went all out and stuffed two big hankies deep in my mouth then sealed it all in with a multi-layer cleave, OTM and OTN gag! It was the mouth packing and gag layers that did the trick. He could see my panties getting wet so he bound my wrists behind my back and licked me through my panties. My mouth was packed SO full that it kept all of my moans and screams muffled as he made me cum. Afterward untied me and slowly untied the gags one at a time. Finally he pulled those two huge hankies out of my mouth. They were soaked just like my panties.
After he gave me the full treatment, I told him it was his turn. I made him lie down and bound his hands and feet. Then I slowly removed my wet panties and held them up to his mouth. He was reluctant to take the gag so I teased him "What… you don't want the panties???" He opened his mouth slowly and I began to pack my wet panties into his mouth (demonstrated by self-gagging on screen). I packed his mouth full then put on a fresh white thong. I tied the same layers on his mouth that he did to me. Then I noticed his cock bulging in his underwear... so I mounted him 69 style and put my fresh clean panties right in his face! "You can't scream with that hanky on your mouth can you? Huh??? You're gagged so fucking tight! All those thick layers of cloth keeping that big fat yapper shut! Cum for me while you're wearing that massive hanky gag! All that gagging is gonna make that big thick cock cum so fucking hard!"
(Features on screen self-gagging & erotic audio voiceover while gagged)
*This clip was a CUSTOM VIDEO commission