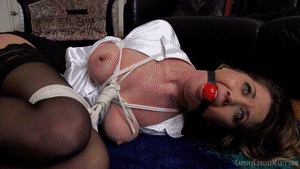 24:46 video
The great bondage rigger looks at a letter from a client who's hired him for the full burglarized experience. The letter reads:
"I want you to sneak into my house before I come home at 6pm. When I arrive you'll overpower me and threaten me to cooperate. I'll off course try to reason with you to stop... but stop at nothing since it will all be part of my act. You will gag me with a big red ballgag and truss me up in a nice snug balltie with elbows pinned behind my back and knees tucked up tightly against my chest! Another rope will pull my ankles under me connecting to my bound wrists... and a nice TIGHT crotch rope too! Then you'll leave me struggling on the floor as you pretend to rob my place. Finally you'll come back to expose my breasts and tell me that you'll alert the cops once you've crossed the state line before leaving me there helplessly BOUND & GAGGED! My address is 1** Main St. & my back door will be unlocked for you. XXXX, Eve"
As the rigger finishes reading the enticing letter he accidentally spills his cup of coffee all over it! This leads to him to misreading the house number and mistakenly sneaking into the wrong woman's house!
Chrissy arrives home from a long day at work ready to enjoy a relaxing evening only to discover the unexpected intruder in her house! As directed he proceeds to overpower her and threaten her into cooperating. Of course her attempts to reason with him don't work due to the other woman saying that he should stop at nothing and it would all be part of her act! The rigger begins trussing her up exactly as instructed in the letter from Eve, all the while Chrissy fearfully begs with him to stop and let her go! Once he completes the super tight ball tie he leaves to 'rob' her (which of course she believes is actually happening) and Chrissy gives it her all in a desperate struggle to escape…. but it's all in vain… she can hardly move at all in the ridiculously tight ropes! Later he returns and unbuttons her blouse to expose her breasts then tell her he will alert the cops after he crosses the state line. Chrissy frantically tries to plead with him one last time but to no avail. She is left helplessly struggling in her humiliating predicament, so stringently bound and ballgagged with her breasts fully exposed! Hopefully he gives the cops the correct address so that they will come rescue her soon!
*This clip was a CUSTOM VIDEO commission