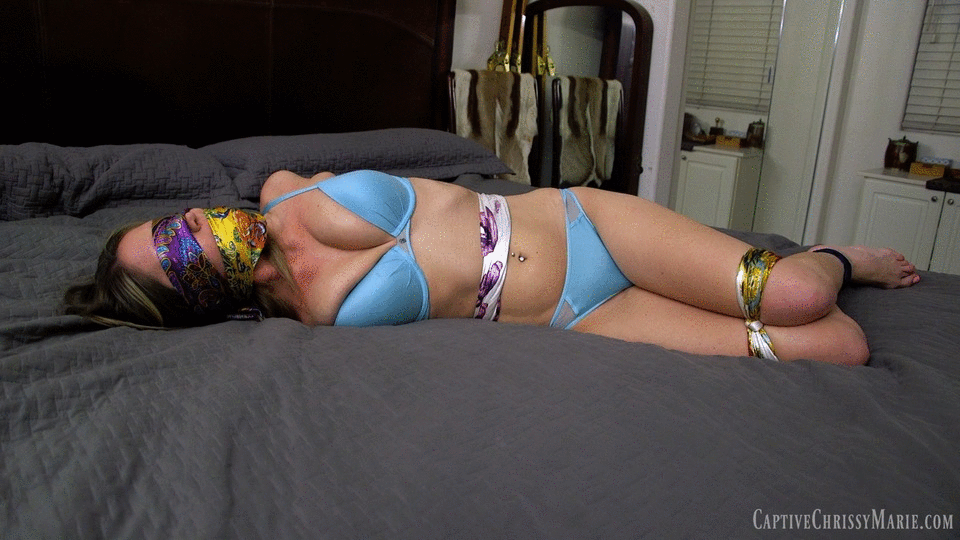 12:25 video
Chrissy is doing a webcam show and announces that she's had a special request from a fan. She explains that she is to be tied up with silky scarves and has to try to escape within 5 minutes or else she will pay a penalty. She confidently accepted the challenge not knowing what the penalty will be. She's invited a friend over for assistance to help since she can't tie herself up all by herself! Then she turns around, puts her hands behind her back and flirtatiously announces that she is ready!
Now Chrissy is all tied up and ready to start the challenge… but her assistant thinks a blindfold would be a good addition to make it even harder for her! Chrissy welcomes the additional challenge. Once blindfolded she asks him if she can start… when he suddenly stuffs her mouth with a big wad of cloth! Chrissy playfully protests as she wasn't expecting this turn of events! Then he gags her with another scarf, first pulling it tightly between her teeth to hold in the stuffing then wrapping it around her head and back over her mouth to complete the gag. Now that she is all trussed up the challenge can begin! Chrissy struggles and squirms around on the bed trying to wiggle her way out of the tight bondage. After a few minutes she realizes that it isn't going to as easy as she had thought! She starts to struggle more furiously as she knows her time is running out! However she still can't manage to get free before he announces her 5 minutes are up and she will have to pay the penalty!
Chrissy doesn't know what to expect since she is still helplessly bound, gagged and blindfolded… completely defenseless to whatever is coming next! The fans have instructed her assistant to force her to cum against her will as her penalty for losing the challenge. When she hears the vibrator click on she quickly realizes what's in store for her next! He presses it between her legs and her first instinct is to resist… but it feels so good that she can't fight it for long! Chrissy submits to her bondage, sensually squirming and moaning in ecstasy as she is brought to orgasm. After she is finished he announces that it's time to untie her… but apparently Chrissy is really enjoying herself now! She seductively gag talks to him that she kinda likes being tied up, hoping that he might take advantage of her in her vulnerable state! However he doesn't get the hint and proceeds to leave her there struggling helplessly while still tightly bound and gagged with silky scarves!
*This clip was a CUSTOM VIDEO commission