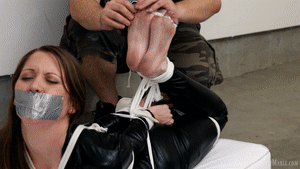 34:32 video
Agent Chrissy is at home when she hears a strange noise from the garage. When she goes to check it out a masked man confronts her. She tries to kick him but she misses and he manages to overtake her and he makes her kick off her heels. He is a little careless so she manages to wriggle out of his grasp to try and make a run for it. Unfortunately for agent Chrissy she doesn't get far before he grabs her and clamps his hand tightly over her mouth as he drags the feisty one back in to the garage.
We see agent Chrissy kneeling on the hard concrete floor with her wrists and ankles tightly bound with rope. She insults the man so he gets back at her by gagging her with a few strips of duct tape of her mouth! Now that she is effectively bound and gagged he decides to have some fun with Agent Chrissy. He pulls down the zipper of her Catsuit so her breasts pop out, then he ties more rope around her arms and chest before putting her on the ground and hogtying her! Then he goes behind her and ties her wriggling dirty big toes together torturously tight with a very thin twine! He leaves her alone struggling to continue searching for the documents he came looking for. However he has seriously underestimated Agent Chrissy. While he was away she managed to escape from her toe tie and hogtie, and now she is hopping around the garage looking for a way to get her wrists free. He catches her in the act and pulls off her tape gag to interrogate her over the location of the secret documents. She just tells him to get lost! Well, he tried to be nice, but I guess she wants to do this the hard way. He pulls out a huge red ball gag and stuffs it in her mouth, her eyes wide as he assures her that he has plenty of ways to get it out of her!
He grabs a chair and makes her kneel on it. He again ties her big toes together and secures them down to the leg of chair. He starts to tickle her feet but she is still not cooperating. So he ties her tits up cupcake style and adds nipple clamps, and finally Agent Chrissy is starting to crack. After some more tickling she can't stand it anymore and gives in. He takes out the ball gag and she tells him that the documents are hidden in her office under the first drawer of the desk. He thanks her for the information then proceeds to ball gag her again and leaves her alone struggling while he goes to make sure she is telling the truth! Agent Chrissy struggles and mmmppphhss through her ball gag, extremely annoyed as she thought giving up the information would mean that she would untied from all this rope! Luckily her escape skills are strong and she eventually manages to free her wrists and untie herself the rest of the way. She tries to get out of the garage again but unfortunately he returns right in time! Now he really plans to have some more fun with the defiant agent
Next we see Agent Chrissy has already tied hands and is very pissed so he gags her with a few strips of tape again. Then he ties another long rope to her hands and grabs it in front between her legs, leading the feisty Chrissy around in the garage. Then he ties the rope into a tight crotch rope, which she really doesn't like at all! He grabs a mattress from the corner and puts it on the floor, telling Agent Chrissy she will stay here for some time! He ties her feet and pulls her zipper down to breast rope her again, then hogties her extremely tight! She is left there for a short time before he returns to see her furiously wriggling her feet and toes. "Still feisty?" He asks. No problem, he has a solution for that! He then TIES ALL OF HER TOES together! She struggles and mmmpppphhhsss in protest and urgently pleads through her tapegag for him to not leave her like this, but unfortunately for Agent Chrissy that's exactly what he plans to do. He would love to stay and have more fun with her but it's time for him to go. He steals the documents and leaves Agent Chrissy struggling helplessly hogtied and desperately trying to wriggle free from her torturous toe tie!
*This clip was a CUSTOM VIDEO commission